As you may have heard, one of the most notorious cardinals in the U.S. has been stripped of his duties. I'll leave others to go through the obligatory, "This is a sad day, but good that justice has been done, but we still have a long way to go" type responses, but occurred to me that we can make a few more gestures.
As evil as the Soviets were, I gotta hand it to them– they knew what to do when a party member fell out of favor. They knocked down statues, destroyed portraits, and erased them from history as best they could. Obviously, we shouldn't go quite that far and that we should keep historical records of Cdl. Mahoney as instructive lessons on What Not to Do, but we could do with a little purging. Start by razing the cardinal's hideous cathedral to the ground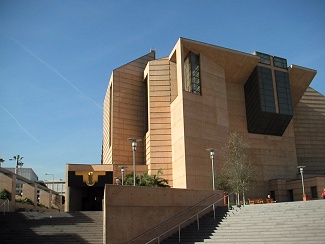 and build in its place something that doesn't look like a Frank Lloyd Wright-wannabe monstrosity.
Update: Instead of bowing out gracefully in the face of the gravity and magnitude of what he presided over, the cardinal has opted for playing blindsided victim: http://cleansingfiredor.com/2013/02/cardinal-mahony-fights-back/